Searching for the Bluest Water
Entire Presentation

Before I begin I want to thank my students Griffin Wilkins and Brianne Jackson, and especially my colleague Fred Chappell for joining me today and offering to read some of the play I'll be talking about. The Bluest Water has been, for me, a labor of love from the very beginning, and I'm delighted to be able to share some of this work with you this afternoon.
In the summer of 1969, the advertising slogan – "Virginia is for lovers" – a phrase that would become iconic, appeared for the first time in an issue of Modern Bride magazine. On June 8 of the same legendary summer, President Nixon announced the withdrawal of 25,000 U.S. soldiers from Vietnam. Three weeks later, the Stonewall riots erupted in New York City, in an event that would become a mythical flashpoint for gay, lesbian, and trans liberation and visibility.
In July of 1969 Neil Armstrong set foot on the moon and uttered the now famous words "One small step for man; one giant leap for mankind." Less than a week later, boxing champion Muhammad Ali would be convicted of evading the draft after he refused to be inducted into the U.S. Army. In the early morning of August 10th of the same summer, members of a cult led by Charles Manson murdered five people in Los Angeles, California, including actress Sharon Tate. And from August 15th to 18th, the Woodstock Festival attracted an audience of approximately 500,000 people to watch 35 performers including Ravi Shankar, Joan Baez, Santana, the Grateful Dead, Creedence Clearwater Revival, Janis Joplin with The Kozmic Blues Band, Sly & the Family Stone, The Who, Jefferson Airplane, Joe Cocker, The Band, and Jimi Hendrix.
Just before midnight on the morning of August 18th, as Woodstock was still going on, Hurricane Camille made landfall at Pass Christian, Mississippi. Camille remains the second most intense tropical cyclone on record to strike the United States. This hurricane destroyed the Mississippi coastline.
In Virginia, though, residents don't remember Camille as a hurricane. In Virginia, Camille is referred to as a flood. After making landfall in Mississippi, Camille continued northward before veering east, following the curve of the Ohio River, into Kentucky and then continuing directly east through Central Virginia. Camille arrived as a tropical depression in the evening of August 19th, where it deposited an enormous amount of rain on Virginia, especially Nelson County. So much rain fell in such a short period in Nelson County that, according to the National Weather Service at the time, it was "the probable maximum rainfall which meteorologists compute to be theoretically possible". The official amount of rain is 27 inches, but most gauges that measured rainfall washed away, and some have estimated that as many as 40 inches of rain fell in some places within a five-hour period.
Visiting this area now, the idea of these floods is almost unbelievable. Tiny creeks that one could easily cross today in a jump became raging rivers causing mudslides, washing away bridges, and killing hundreds of people. Residents in the small villages and hamlets in these areas were fast asleep, and there was no warning that a storm of any magnitude was headed their way. In fact, no flash flood warnings or weather warnings of any kind were issued. The storm came at night and washed away houses and fields and the sides of mountains. 133 bridges washed out in the storm, and 25 miles of primary roads and 175 miles of secondary roads were demolished. Of the 167 dead or missing after the flood, 126 were residents of a single Virginia county, Nelson County, over 1% of its population.
As the fortieth anniversary of the flood approached, Endstation Theatre Company sought to commemorate the flood and its impact on Virginians by staging a play that honored the memory of those who were lost and those who survived Camille. Endstation – which was founded in 2006 by two Florida State University alumni – was a resident company at Sweet Briar College in Amherst, Virginia for a decade, and is now in residence at Randolph College in Lynchburg, Virginia. From the beginning, Endstation has been committed to what Angie Sweigart-Gallagher and I have come to call "dramaturgies of place". What we mean by this is that Endstation's theatre work is informed, before anything else, by the location where this theatre is being performed. Because the company was in residency at Sweet Briar College, performing outdoors on the gorgeous campus was a logical move that the company's founders exploited. They produced Shakespeare outside on the grounds of the College, but instead of simply using the landscape as a backdrop for Shakespeare's plays, they began to use the land itself as a structuring principle for rethinking and changing the ways these plays work. Each play was set on the land, that is in Virginia, and Shakespeare became a way to speak about the land itself. This was a structuring principle for Endstation for many years.
They also began producing plays about Virginia – commissioning and developing work that told local stories, dealt with local issues, and interacted with the histories of the region. The Bluest Water, which they first produced as a series of readings in 2007 became a small production in 2008 and then, for the 40th anniversary of Camille, was produced again in 2009. The play was conceived by Geoffrey Kershner and written by Jason Chimonides, both of whom were Fred's students in the MFA Directing program in the early 2000s. There were only something like 35 seats for each performance in that summer of '09 and, although I had driven twelve hours to Virginia to see the work at Endstation, for some reason I hadn't thought to secure a ticket to The Bluest Water. The director found me a seat just in time, though, and I was able to watch this original production. The show works like this: A chorus of Camille's survivors speak to us as memories of the past. These individuals don't have names, and we don't learn about them specifically, but we hear their voices, and they teach us about what happened. The chorus structures the drama of The Bluest Water by framing the play and then intruding on the plot of the show throughout. The first chorus sequence, for example, sounds like this:
— I can still hear the sounds of the search helicopters in the days after…

— Wind and water unearthed coffins, sprung their tops, tangled their contents in the trees…

— I could hear m' neighbor up on the ridge above the creek. "Is anybody alive?" he hollered. "Is anybody else alive…?"

— The sounds of trees and boulders? Just like bombs goin' off and the roar of the water? Deafening.

— A naked man, climbing the branches of a tree, came down and asked me for a robe.

— I saw maybe two dozen cows – wild eyed and neck deep in the water, just wailing with terror.

— White-capped waves thrashing the fields… and the smell of the mud? I'll never forget that ancient smell.

— The logs were just jumping out of the river like fish… lightning lit the scene from horizon to horizon.

— I remember drivin' up and seein' a house right in the middle of the median. Fully intact.

— The man on TV said it was one of the all time meteorological anomalies ever…

— Cloud to cloud lightning… I even saw an ol' pipe organ ripped right out a church…

— All told, they said musta been 10,000 birds drowned. Drowned right up in them trees…

— I was kind of in a daze you know? And I think being in that daze helped me get through it.

— They say Camille hit Nelson County with all the destructive force of a 40,000 megaton bomb.
The chorus fades and the plot of the show begins to move a bit more traditionally, but this is a memory play, and the ghosts that haunt the show always feel present. The characters in the present are looking for clarity about the past. They cannot and do not let the past go. They instead attempt to deal with the past. The plot of The Bluest Water, briefly, is this: Jared Boyle, a retired counselor and social worker, is obsessing about a patient from his past named Bobby Cassells. Bobby lost his entire family during Camille's devastation, but Jared doesn't know what has become of Bobby forty years later. He decides to try to piece together what has happened to Bobby by questioning people who knew him and who were there when Camille hit. The play moves back and forth between moments in the present and sequences from the past – as memories come to life on stage and we see what happened in 1969 after the storm. Thematically this allows us to remember Camille through a refracted lens – to understand memory as always partial and also to see the value of even very small snatches of what we remember and how important they become to us. Structurally, this allows us to work back through the events of Camille's aftermath while always keeping the present and the effects of the storm on its survivors uppermost in our minds.
The other central character in The Bluest Water is Jared's wife Liz. She, like Bobby Cassells, lost her entire family in the storm, but she resists reconstructing the past. She has decided not to think about Camille and her family, and she refuses – for most of the play – to help Jared piece together what happened to Bobby. The play, in this way, stages the physical and emotional toll of memory on the lives of those who survived. Bobby himself haunts the present day sequences – we see the teenage version of Bobby numerous times throughout the show, and he is often in the room with Jared and Liz as they try to figure out what happened in the past. As we move into the final sequences of the show, Liz processes losing her mother and the rest of her family in the flood, and in doing so, she also remembers something about where Bobby may have gone.
You can perhaps hear a tension in this plot between processing difficult memories and letting them alone. This was not only a central topic of the play but a central concern for Geoff, Jason and the rest of the team as they conceived of the show. As Tavia Nyong'o has recently asked, Does staging historical trauma re-enact it? It was of the utmost concern to the original team that they not reproduce the horror of the flood, that they not exploit the suffering of those who experienced the flood, and that they not trigger anyone who lived through Camille's damage.
Before we hear some of the end of the play, I want to describe the production of The Bluest Water we did last summer for the storm's fiftieth anniversary. It had been ten years since the most recent production, and so most of the original team no longer works for Endstation – only the original scenic designer Krista Franco is still a company member. When I was asked to direct a new production of the show, though, we also decided that we wanted to get many of the show's original collaborators back together to work on it. The original costume designer Sally Southall, the original lighting designer Daniel Gallagher, and three of the original cast (Casey Carden, Thomas Bell, and Paul Stober) also joined us. We updated the show slightly – so that it would be set in the present day – but we decided only to make slight changes to the material.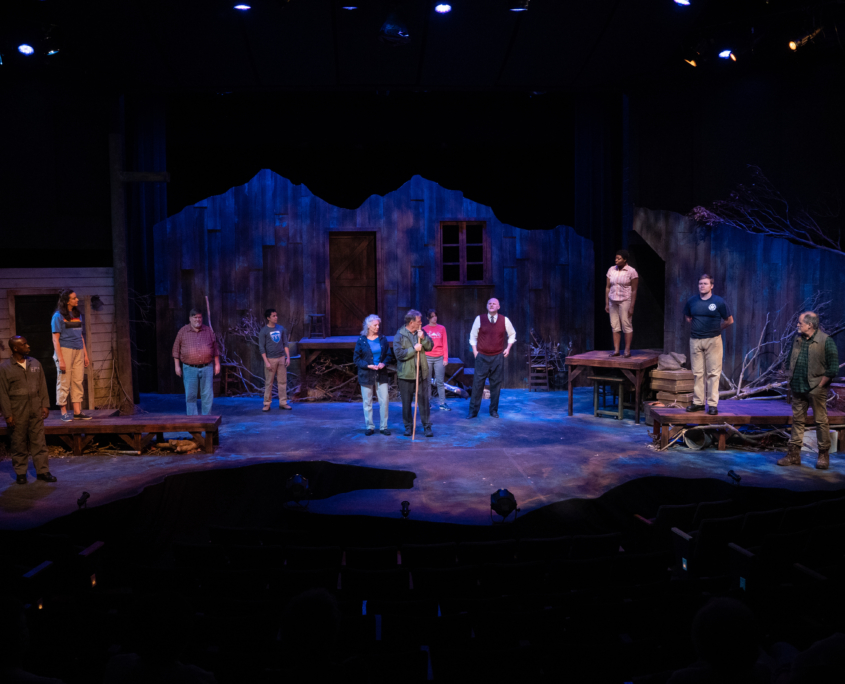 One of our first concerns about moving to a much bigger theatre was that we would lose the intimacy of the original production. The first production had been so tiny, and we were worried that the power of this intimacy would dissipate in the new theatre. Our scenic designer's idea was that she would build the stage out into the audience's space. She did this – and you can see it in the image here… by designing the stage so that it took the amorphous image of a mudslide.
When I met with the design team, the first thing I emphasized was sound. I had been heavily influenced by a book called Camille 1969: Histories of a Hurricane by a scientist named Mark M. Smith. Smith was doing work on sensory histories of the storm, on the ways that our senses themselves come to be rearranged and we stop trusting them when we experience traumatic events. One example of this is the passage you heard earlier, in which one of the characters emphasized the ancient smell of the earth. The water in Camille's flood washed away thick layers of topsoil and churned up earth that hadn't seen the surface for hundreds of years. This produced a smell that residents couldn't place. The earth itself smelled different to them. Another example of this is the sound of saws. For more than a year after Camille hit Nelson County, the sounds of saws could be heard, cutting through felled trees, unblocking roadways, and cleaning up debris. Residents spoke about being haunted by the sounds of saws – that the sound itself, even forty and fifty years later, triggers deep pain as their bodies remember the devastation of Camille. I wanted the show to have a soundscape, for the chorus sequences to have a low drone underneath them, and for snatches of memory to be sonic as well as visual. This had another purpose, as well, because when Camille hit Virginia, it knocked out the emergency communication systems, so rescue workers and other first responders were communicating via ham radio. I wanted us to hear the specific sounds of what rescue work sounded like in 1969 during this period, but also for the audience to feel surrounded by a soundscape that could evoke emotion like memory. I wanted something in addition to the text that would work like the text in this second choral section of the show:
— In the flash floods and avalanches… 125 people were drowned, crushed or buried so deep they'd never be found. Entombed.

— What do you do? When it's your brother? Or your father? Or your daughter? Where do you go to mourn…?

— My grandma spent the night in a treetop. A weeping willow treetop…

— We ran up the stairs, the water kept rising, it reached the third step, the fifth step, and then the tenth step

— It felt just like standing under a waterfall.

— You had to tuck your face into your shirt just to breathe…
When I told the team my sound idea, the lighting designer recalled that he felt that the play didn't represent the storm itself very well in the first production. He wondered if we could figure out some way to do the storm onstage. This became one of the show's highlights and one of the sequences that audiences responded to most. We decided on a place in the show where storm belonged, and then the lighting designer, the sound designer, and I built the look of the storm together, and we made a storm sequence that lasted about a minute long – an eternity in the theatre. The sound of rain began low and rose to become quite loud over the first 25 seconds or so, and then we bumped up the level of rain markedly, so that it became much louder very quickly and stayed that way. Sounds of lighting were constant, as well, but just the volume of the rain became difficult to sit through in the theatre. As we built it we knew we were doing something dangerous. I was concerned about triggering audience members who might not want to sit through that awful sound, and we were also worried that it would simply just be too loud for our patrons. As we worked, our stage manager, an undergraduate apprentice from Louisiana, said This reminds me of Katrina. We decided to go for it, as an attempt to communicate the power of the storm to audiences five decades after the event.
I want to tell you just two more responses to the storm that audiences had. The designers and I had a visit from a group of 100 middle schoolers one afternoon during the run of the show. We talked about climate change and hurricanes and Krista talked about her design process and how to make meaning onstage using objects. And then our sound designer played the storm track for the group. They screamed and shrieked in pleasure. They loved the storm so much that they had us do it again. Out of context, the experience of the rain and thunder and lightning was a source of enormous pleasure for these young people. We were delighted, and it allowed us to ask them about their experiences with fear and dangerous weather. On the other end of the spectrum, at an evening performance of the show, one audience member, who had lived through Camille, thanked us for this storm sequence. He said that the rain had sounded exactly like the rain did in 1969. I am skeptical of this, of course, there is no way for us to know what the rain sounded like, but memory plays all sorts of tricks on us, and I knew from the beginning that I wanted the show to be about processing memories through the senses. The "truth" of it mattered less than that it meant something to this audience member.
As the play nears its close, the chorus begins to tell us stories of rebuilding. The third choral sequence goes like this:
— When the Mennonites came into Massies Mill. I saw them clean up the whole community; they only asked for one thing. To have a tent revival.

— We built some new homes for some of the new families that decided to stay. For others, trailers were brought in and a mobile park home was set up for those who needed them.

— I walked into my classroom and I could smell the fresh paint. I got excited thinking about the children returning to school soon.

— I was volunteering for the Salvation Army. People from all over the place – sent clothes and all kinds of housing needs for people. We set up an old building in Massies Mill to distribute everything.

— We worked together to rebuild the pews for the church building. It was good to see everyone working side by side. There was a feeling we were going to get through this.
In the present day, Jared and Liz have followed what they think is Bobby's trail onto a mountain called The Priest – one of the beautiful mountains in the Blue Ridge. They believe that after Bobby lost his entire family in Camille he might have come up to the Priest to build a monument. They are worried that he might be dead or that he might have done harm to himself, but they want to look for the monument on the Priest and see if they can find a clue to his whereabouts. Jared and Liz don't find a monument. What they find instead are a stranger and his son. Now this is a little bit of theatrical magic: the kind of thing I love to see in the theatre. As Jared and Liz look around on the mountaintop, Bobby himself runs onstage – or rather it's the same actor who plays Bobby, but he's in contemporary clothes, and he isn't a ghost. Then another character walks in and introduces himself as Robert Merton. The young man is his son Tyler. For me this is a moment of grace in the show. We get to see Bobby alive. We get to believe that he is alive. The present and the past touch, as they so often get to do in the theatre, and memory takes an embodied shape.
Jared and Liz speak briefly to Robert about what they're doing on the mountain. Jared tells Robert they're on a quest to find someone they used to know, but they don't tell him much else. Robert responds with the show's most important speech, and The Bluest Water switches tactics so that for several minutes Robert becomes the central figure in the show – as if it was he whom Jared and Liz have been searching for the whole time. I want to ask Fred to read that speech for us now.
'Fore you go. Y'all wanna hear about the best quest I ever went on?

C'mon. Indulge an old hippy in his twilight years?

This is good. This is the late sixties, right, I was a kid – not much older than my son over here. I'd fought in Vietnam… and when I got back… well, something happened to me. Tragedy, you know? Some pretty bad stuff and well, I couldn't run far or fast enough away. (Beat) So, I started searching. For a release or some beauty or… It was like a hunger, you know? In the body, in the soul. I tried everything. Believe me: smokin', drinkin', the hard stuff even – nothing. No release. No beauty. Just numb. So what do I do? One day, I up'n decide I'm gonna travel the country to see which body of water is the bluest.

Took me three years. But I finally found it. Crater Lake. In Oregon. Formed from a volcanic eruption, a cataclysmic natural disaster 'bout eight thousand years ago. It's even got this little island out in the middle of it – Wizard Island – 'member I kayaked out to it, lit a fire at magic hour… and… I dunno… (Reliving the moment in his mind) …Sittin' there, surrounded on all sides by the bluest water, I finally get what'd eluded me until that moment: "you gotta let it in". (Beat) You better swallow that tragedy whole, or you know what? Somethin' really tragic'll happen – you will never live in the present. See, there ain't no life in the past, Jared. None. No life at all. What happened to me back then? It's defined my life. But it isn't my life. (Beat) You see, I used to wanna purge this thing, thought it was a cancer I could just cut outta my body, wanted to wipe the slate clean… But since Crater Lake, I don't. And the second I chose to stop fighting – was the exact same second I was able to move on. Not from it, but with it. (Beat) The quest never ends, Jared. You are the quest. We all are. (Beat, smiles) I just say all this 'cause, I dunno… Maybe, it'll help you somehow.

I think this mountain is monument enough. (Beat) That's what he discovered. Your friend. He must've. (Beat) It's monument enough, Jared… no – better, even. No better than this mountain right here. (With a knowing twinkle) He must've.
There is a great deal to unpack in this section of the play, and I want first to answer a question that many audience members have asked me: why was he looking for something this specific? Why was he searching for the bluest water? The answer that I understand, and that the actors and I worked from, was that Camille for these characters meant more water than they had ever seen, and water in places where water oughtn't to have been. But none of that water was transparent. The floods from Camille were muddy brown and also nearly red – where the soil from the mountains in Nelson washed into the James River. For someone who is looking for his family under the mud – and many people had family members whose bodies were never recovered – clear water, blue water, would not only be beautiful, it would let a person see through it, to see what is underneath.
It is worth saying, too, that I think in this section of the play, The Bluest Water also answers the question of how staging historical trauma might avoid re-enacting it. Tavia Nyong'o argues that "at its best, theatre creates a good enough holding environment […] in which trauma can be encountered, as it were, non-traumatically." As he says, "because the subject is herself constituted through trauma," there is no possibility of a theatrical production that doesn't have the potential to trigger some audience members. In other words, Nyong'o argues that who we are is frequently formed through traumatic experience, and the playwright of The Bluest Water has crafted Robert (and Liz, as well) as folks who have recognized the ways that traumatic experiences have shaped them as people. Robert articulates that beautifully here in his monologue.
Blue – of course – is also an important color for a mountain range called the Blue Ridge, a mountain range that actually appears blue every night when you look at it. (It's not a trick of the light: the trees on the mountains release a chemical that gives the mountains their characteristic look.) After Robert's speech, Jared and Liz thank him and leave the mountain as they take one more look at the Blue Ridge – and our scenic designer crafted the set in just such a way so that at this moment the lights could shift and the mountains could actually become visible on stage where they weren't before. It is a theatrical moment we were all very excited about. Even the actors hadn't noticed this aspect of the set until our designer lit the back wall so that the mountains appeared.
There is one more sequence in the show, but I want to save that for just a little bit longer. Before we hear it I'd like to talk about one more very important way that The Bluest Water was able to connect with our community in Virginia. We felt certain that when people saw the show they were going to want to respond to what they saw and heard. The creators knew from doing it in 2009 that audiences had lots to say after the show in the lobby and in comments to the original creative team; they had stories to tell and grievances to air and memories that they wanted other people to share in. The question was: How do we create a space for audiences to speak about their experiences of the show without turning this conversation into a demand that audiences speak? How do we allow for an environment in which people feel as though they can share, but don't feel as though they must?
As it happens, the show only ran about 65 minutes total, and so we actually had time to do a post-show discussion. We decided that I would lead one after every performance. My tactic for giving audiences the opportunity to talk was this: After the curtain call after every show, I came out onstage, introduced myself, and thanked the audience for attending. I invited them all to stay for an interview with someone from the creative team, and then we set up chairs and I brought someone out to talk with me, as if I was James Lipton (but actually I envisioned myself as somebody much cooler, like Oprah.) Each night was someone different. I interviewed the director of the original production on our opening night. I interviewed the scenic designer, different members of the cast, the costume designer, and actors from the original 2009 production. I wanted to make sure that I got these members of the creative team talking about the original production and the current one – in this way we were always talking about memory, what they remembered from doing the show 10 years ago, and how things have shifted since then, what was different for them this time around. I also made sure to get them to talk about meaning: I asked them what the show meant to them and how they understood the larger meanings of the play. I also always asked them if the show itself had started to mean anything else or mean differently – even though the text hadn't changed – in the ten years since it had been originally produced.
The important thing here wasn't what my interviewees exactly answered, but that we were practicing remembering for the audience, making connections between the past and the present and making meaning of those memories for the present. We were also actively relating the show to our lives in a direct way. I asked them personal questions about their own connections to the characters in the show and their struggles and stories. I always asked the actors to talk about research they did in order to portray their characters. This meant that the actors brought up stories of their own that they had heard from survivors and first responders.
In short, what I tried to do was disguise a session in which we shared stories from the flood in 1969 as an interview or conversation about the making of an artistic object – to disguise a way of connecting the past to the present in a conversation about an earlier production and the new production. The post-show discussions were all of these things at once, and the idea was that audiences would then feel free to ask us questions or share their own stories.
They did both.
Audiences, of course, asked the actors how they memorized their lines. This always happens in a post-show talk. One of my favorite questions was when a gentleman told me that the play felt just like a movie, switching easily from scene to scene. I was able to point out to him that this was, in fact, exactly how Shakespeare wrote – so switching quickly between scenes is not so much a cinematic convention as it is a Renaissance theatrical convention. My thought was, actually, that it was probably the large amount of sound in the play that made it seem to him as though he was watching a movie. We are much more used to being directed emotionally by music at the cinema.
But the coolest thing that started happening was that audiences started telling us about their own memories of Hurricane Camille. A woman told us that she and her husband were engaged to be married on August 20th, 1969. It was going to be their wedding day and all of the money her husband had in the world was in cash in a truck that got stuck in the Nelson County mud as the water from the Rockfish River rose and the bridge washed out. She remembered that he had taken her home and that they didn't realize how bad the storm was going to be until after they had parted.
Another audience member remembered that his mother had lost her father in the flood – she had been staying at a friends' house but her father was spending the night near Davis Creek. She had to return every weekend to look for her father's body in the detritus of the flood. They had long given up the hope of finding him alive, but they wanted to find his body.
Another audience member spoke about the fact that the death toll can't ever account for the number of people lost in the flood – she reminded us that there were truck drivers driving through on Highway 29, there were people living in many different corners of Nelson County: people who are unaccounted for, who cannot be counted, who were simply lost, who disappeared without a trace.
People told stories of living through the storm, of being held on grandparents' laps during the rain, of worrying about loved ones one county over, of listening to the ham radio for news. And people told stories of the people they lost – classmates and friends and relatives – and stories of the people their parents lost. These sessions became rather extraordinary. Almost invariably, my job was simply to listen. Often I would just thank people for sharing what they shared and say nothing else in response. I would then ask if anyone else had anything to share. I don't think this ever became awkward or disrespectful. These Virginia audiences – who had just paid very close attention to a story about a local disaster – were willing to give each other the space to process what they had just seen in whatever way they needed. Sometimes they would simply say, "I lost three people in the storm," and sometimes a relative who had attended with them would take over or explain.
One of the attendees told us that the most important first responder in the play – a character named Trooper Emory McCollough – was actually based on him. He was, of course, right, and I knew who this man was as soon as he started talking. He had brought along some pages from his journals from that time period and he asked to read a little of what he had written. What he read were memories of the storm's aftermath that, surprisingly, restated a central theme of The Bluest Water itself. He had written that we needed to look to the land for thinking about how to rebuild, that we needed to find a place to put our pain, a place to memorialize our loss, and that there was no better place to do that than the land itself. The audience sat stunned and appreciative as they listened to this man who had been such an important part of the rescue efforts 50 years before. We were able to honor him in person as the entire audience applauded as I thanked him when he finished speaking. It was a beautiful moment.
I always asked my guests, as the last question of the interview, what was different ten years later and what had changed since the first time they worked on The Bluest Water or since we produced The Bluest Water for the first time in 2009. A play – any text, really – comes to mean new things after ten years. The Bluest Water means more to the community of Central Virginia, certainly, as audiences already knew of this play as something important to its history, even as the event itself was farther away in time. But the play also is about new things. One of the meanings of The Bluest Water that definitely shifted in the years between 2009 and 2019 was a growing awareness of the effect and impact of climate change on intense weather conditions like cyclones such as Camille. As we have all gotten more educated about climate change, it is difficult to watch a story about extreme weather conditions without also thinking about our own responsibilities for the causes of those conditions. For me, the stories of the first responders that pervade The Bluest Water – helicopter pilots, military aides, nurses, doctors, psychiatrists, state troopers, rescue workers, ham-radio operators, fire-fighters, volunteers – are stories of how we work together to help solve very big problems, and how we can get work done by leaning in to collectivity and community, with each of us playing to our own strengths.
Perhaps even more important to Nelson County residents is the very important issue of the proposed Atlantic Coast Pipeline, which was supposed to transport natural gas through Nelson and across the Appalachian Trail. Community organizers argued that this pipeline jeopardized hill country that was susceptible to landslides, threatened numerous species of endangered animals, and would create a constant and ubiquitous threat of fire throughout the county's beautiful land, with its main benefit going, not to residents of Virginia, but to a corporation situated in other states. The Bluest Water is not really about the pipeline, of course – it's about a natural disaster in 1969 – but this local political and ecological issue is foremost in the minds of any resident of Nelson and the surrounding counties, and all talk of ecological preservation and natural disasters leads back to the ACP. Consider these paintings by Genesis Chapman, for example, on display at the Taubman Museum of Art in downtown Roanoke in 2018. (The ACP stopped all construction very recently after a decision in early 2020.)
The Bluest Water ends like this: After Robert's speech about the mountain itself being enough of a monument to remember the dead, Liz sees something she hasn't been able to see for a long time. She tells her husband to look at the Blue Ridge and says she can see waves. The mountains look to her like beautiful, blue, rolling waves. As I said earlier, the image of these blue mountains is one that any Virginian knows very, very well. But as I said to the actress playing this part – imagine that the land itself has been a source of pain for fifty years, imagine having refused to look at these mountains for so long … and then finally looking again and seeing the beauty that was there all along. The pain, too, but also the beauty. This is the last line of the play proper, but the chorus comes out for one more speech, and in this chorus sequence, characters from 1969 come forward, as well as current residents of Nelson County – you can see it pretty well in this picture. This is what the final chorus has to say:
— Today, fifty years after the storm, memories are still vivid, reflections still strong. Hurricane Camille is a part of who we are and who we will become.

— For a lot of the survivors of the flood, we find peace and comfort through God. For others they are still searching for their Bluest Water.

— Fifty years later, the stories of the flood and how we survived are still being passed down to our children and grandchildren, long after all of us are gone and the stories end, there will still be a story to be told hidden in the mountains, rivers, and silent lands.

— Even though many were lost, we re-built, are still strong, and have kept the generations connected to always remember those who are no longer with us.

— To look at Nelson County now, it's like the flood is a bad dream from long ago, but to the survivors it is still very real.

— We know we can't control natural disasters or when they occur, we can however learn from them each time they impact us. Those that lost their lives did not do so in vain, as we have been able to develop new technologies and procedures to help those who have had to face the storms today.

— To this day when I look down the road I expect to see some of the people who were never found to come walking down it, like it was a bad dream.

— For those of us who came after the flood, the signs are still there. Boulders still spot the mountains, uncovered by the rain. Climbing the rocks and taking in the views you realize all the beauty that came out of the disaster. Despite the tragedy Camille is one of the reasons Nelson County is such a beautiful place.
Central, then, to the story that The Bluest Water tells is that the way to make sense of tragedy is to allow that pain to become a part of who we are going to become. "Camille," the character says, "is part of who we are and who we will become," just as Robert tells Jared that "you have to let it in."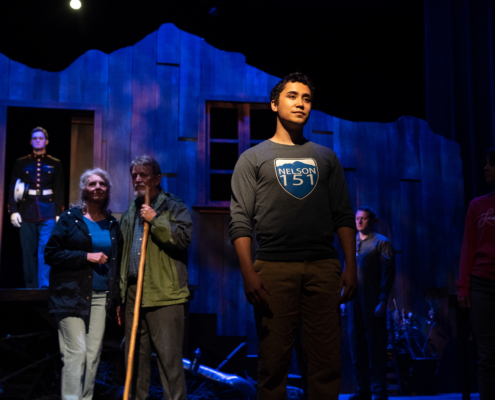 And as the last chorus member – here played by Ho'ola Bush, a local student from Randolph College's theatre department – says, the new landscape of Nelson County, with its enormous boulders washed down by the rainwater, with its mountaintops that have been cleared of trees in strange formations, with its flowers that have been transplanted way down in the valley from their original place far up on the mountain, this new Nelson county land is beautiful because of Camille. The scars are part of its loveliness. They've created some of the most beautiful sections of Virginia.
I want to end with one more observation about the way that a piece of theatre can change over time and come to take on different meanings. We have all, I imagine, been thinking a great deal about the Anthropocene – about the ways that human beings have impacted the world and changed the face of the earth simply by being here. Climate change is on many of our minds all the time. I read recently that one of the things young people today live with is a kind of terror of climate change – that life in the Anthropocene can sometimes simply induce panic and an anxiety that cannot be dealt with. Some people find themselves dealing with deep despair about the state of the planet. But if I begin to look at The Bluest Water and its central ideas from the perspective of living in the Anthropocene, it occurs to me that the play's ideas… about working to accept tragedy… learning to live with trauma… and looking again at the beauty that surrounds us… are also a healthy lesson for life in the Anthropocene, for learning to live with climate change. We must, we know, begin to respond to the reality of the world in which we live. We must learn to shape plans for living on the planet from the point of view, not of trying to return to a time before the Anthropocene, but from the perspective of the world we now find ourselves inhabiting, a world after the disaster. And if that is what the play offers us, what perhaps our particular production – with its nightly post-show ritual – might offer us is that we need to do all of this together. I don't think finding one's own bluest water means giving up or accepting what has happened to us as fated or inevitable. I think it means that we learn to move in the world differently, with an awareness of the beauty that surrounds us, and with new ideas about the way we care for each other and the world in which we live.