From the Back Cover
The politics of Broadway musicals matter a great deal more to U.S. American culture than they appear to mean, and they are especially important to mainstream politics surrounding sex, gender, and sexuality. Love Is Love Is Love looks to the Broadway musicals of the past decade for help understanding the current state of LGBTQ politics in the United States.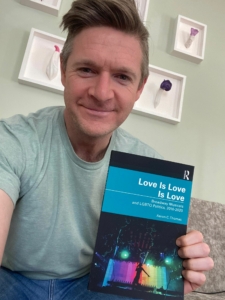 Through analyses of Promises, Promises, Newsies, Hedwig and the Angry Inch, The Color Purple, and Frozen, this book attempts to move past the question of representational politics and asks us instead to think in more complex ways about LGBTQ identity, what LGBTQ politics are, and the politics of Broadway musicals themselves. Producing new, complex readings of all five of these musicals, author Aaron C. Thomas places each of them within the context of the LGBTQ politics of their day. Some of the issues the book treats are controversies of casting, the closetedness and openness of musical theatre, LGBTQ identities, adaptation from movies into musicals, and the special power of the musical form by examining how these shows differ from the books and movies on which they're based.
Love Is Love Is Love places contemporary LGBTQ political tensions and conversations in a new light, making this an essential companion for students and scholars of contemporary theatre, musical theatre, cultural studies, Queer studies, and gender studies.
From the Introduction
At the Tony Awards ceremony in the summer of 2015, Jeanine Tesori and Lisa Kron's musical Fun Home emerged triumphant, taking home the trophies for Best Original Score, Best Book, and Best Musical and, perhaps even more importantly, sneaking into the hearts of the viewers at home with a beautiful performance of "Ring of Keys." Fun Home is a landmark in lesbian representation on Broadway, and its success during the 2014–2015 season appeared to be a harbinger of good things to come. Kron, one of the original Five Lesbian Brothers, accepted the Tony Award for Best Book of a Musical, and her speech hailed the new future of musicals on Broadway. Kron's speech was not shown during the television broadcast, so I want to begin this book by quoting from it here at length, especially because it is a perfect snapshot of how Broadway understood itself in the summer of 2015:
For many, many years I have had a recurring dream . . . that I suddenly discover that the apartment I live in has a whole bunch of rooms that I didn't know were there. And I'm like "How did I not know about all these rooms?" And I've been thinking about that dream as I've been thinking about this amazing Broadway season, because we all live in this big house, and we've all been sitting in the same one or two main rooms thinking that this was the whole house. And this season, some lights got turned on in some other rooms. And we're all like "Oh my god, this house is so much bigger than I thought." . . . You guys, our house is so big. Please, let's not just all go back into the living room.
Kron's metaphor is a beautiful one. She asked the assembled audience to recognize that there are many more stories that can be told, that there are many people and ideas that audiences and producers have been ignoring for so long, and that the diversity of the 2014–2015 Broadway season expanded the imaginative possibilities for the Broadway musical itself. Kron also noted that "this has been the most successful season in Broadway history," and although she celebrated how far Broadway had come in terms of its representational politics, she also acknowledged the entertainment industry's tendency to go back to business as usual.
But Broadway didn't actually go back…